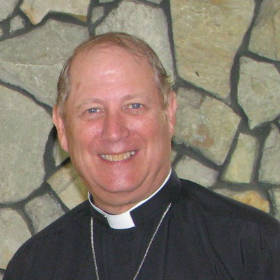 The Reverend Michael G. Hub, "Fr. Michael", is an Assisting Priest at Saint Barnabas Anglican Church. He is a second career clergyman having served in the US Air Force for 31 years prior to retiring in May 2000. Fr. Michael attended Trinity School for Ministry, located in Ambridge, PA, graduating in May 2003 with a Master of Divinity degree. He was ordained to the Priesthood by The Rt. Rev. Edward Salmon in December 2003. Fr. Michael remains canonically resident in the Diocese of South Carolina.
Following graduation from seminary, Fr. Michael accepted a call to Saint Matthew's Parish Episcopal Church, Fort Motte, SC, where he served as Rector for 10 years, retiring in June 2013.
Fr. Michael is married to his wife of 43 years, Callie. They moved to the greater Charlotte area in July 2013 and live in the Sun City Carolina Lakes retirement community in Indian Land, SC. They have two children and five grandchildren who also live in and around Charlotte, NC.
"It is my great joy to be able to serve at Saint Barnabas Anglican Church, and I appreciate Fr. Harold's gracious partnership in both preaching the Gospel and celebrating during Holy Communion.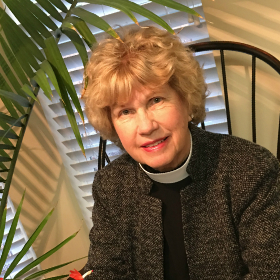 The Reverend Linda H. Manuel+ (Linda) is an Assisting Priest on the St. Barnabas Clergy Team. Linda and Bob her husband have been married 52 years. Linda attended Bryn Mawr School, Hollins College, and the George Washington University ( B.A. Political Science; minor in psychology) Linda attended Trinity School for Ministry in Ambridge, Pa. (M. Div. 1997). She was ordained to the Deaconate in the Diocese of Pittsburgh by The Right Reverend Alden Hathaway in June of 1997; and Presbyter by The Right Reverend Robert Duncan on The Holy Innocents in December of 1997.
In February of 1998, she began working on Bishop Duncan's Staff as his "Diocesan Missioner for Small Communities." Linda served at 7 churches in the Pittsburgh diocese as a trained Interim, supply, and as the Vicar of St. Andrew's, New Kensington. She served as a member of the Diocesan Council; NECCA; Professional Conduct Training Team; Province 3 representative; Clergy Conference Planning Team; Cursillo Team; Acts Board; and the Diocesan Christian Formation Board.
In June of 2006, Linda was accepted into the Diocese of South Carolina. She is still canonically resident there under The Right Reverend Mark Lawrence. With the kind permission of The Right Reverend Stephen Wood she functions at St. Barnabas.
In South Carolina, Linda taught, served as supply and was elected to the Commission on Ministry and Ecclesiastical Court. She also planted 'Grace Parish' in North Myrtle Beach.
"It is wonderful to be a part of Saint Barnabas Church. I cannot wait to see how God will use my strengths and weaknesses for His glory. I am thankful for the privilege of serving Him and walking with Jesus for as long as I can. It is my prayer that God will draw many people to His Son, Jesus, through the Holy Spirit, and His people here. Would you like to walk with us too? Jesus is waiting for you!